Jurassic World: Dominion Dominates Fandom Wikis - The Loop
Play Sound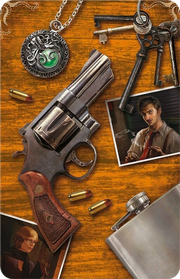 Assets are possessions that can be gained by players to aid in their mission. Assets are most commonly gained by using the Acquire Assets action on a city space(or at the Lake Camp). They can also be granted by encounters, mythos cards, investigator abilities and many other effects.
Each asset is either an Item, Trinket, Task, Service or Ally.
Every asset has exactly one of these traits. These traits have no direct impact on gameplay, but they are often referenced by other cards or by Investigator abilities.
Assets may also have the traits Magical, Relic, Tome, Weapon, Teamwork.
Allies
Allies represent individuals who travel with and aid the investigator. Where items tend towards higher situational bonuses (such as +4

during combat) allies tend to grant smaller bonuses that are always in effect (such as +1

). They also commonly allow you to re-roll dice. For this reason, allies are often very helpful during encounters.
For a full list of allies see the Ally article.
Items
Items are the most numerous asset. They represent physical goods that a character can gain such as a rifle or book. Most tomes and weapons are items. Items often provide large bonuses which can only be used for specific tests, such as +4

during combat or +2

when casting spells. For this reason, many items are very useful in those situations but less valuable during encounters.
Items may have one or more of the following traits: Magical, Tome, Relic, Weapon.
For a full list of items, see the Item article.
Services
Service assets are one time effects that activate when gained. They can provide a variety of benefits, such as restoring health or granting a random item. Services may not be kept or traded, they must be used immediately when gained.
Services may have the Teamwork trait, implying that they affect more than one investigator.
For a full list of services, see the Service article.
Tasks
Tasks Assets are cheap to acquire but provide no immediate benefit. When a specific trigger occurs (such as reckoning or an investigator defeating a monster) they provide a benefit. Unlike unique tasks the benefit on task assets is indicated on the front of the card, they are not flipped. All task assets have a cost of 1.
For a full list of tasks, see the Task article.
Trinkets
Trinkets are similar to items. They represent smaller physical goods such as a ring or watch. They tend to grant unusual or situational effects. They often add indirect bonuses to tests, such as allowing re-rolls, thus stacking with skill bonuses granted by other assets. For this reason Trinkets synergize well with Items.
Trinkets may have the Magical, Relic, Tome and Weapon keywords.
For a full list of trinkets, see the Trinket article.
Complete List of Assets
This list includes all Non-Unique Assets. It does not include Artifacts.
Name
Trait
Set
Value
.18 Derringer
Trinket, Weapon

01

Core
1
.25 Automatic
Item, Weapon

06

1
.32 Colt Pocket
Item, Weapon

05

2
.38 Revolver
Item, Weapon

01

Core
1
.45 Automatic
Item, Weapon

01

Core
2
.45 Colt Revolver
Item, Weapon

02

1
Agency Stakeout
Service

08

3
Agency Quarantine
Service

01

Core
4
Agent of Secrets
Ally

04

4
Alchemical Concoction
Item — Magical

07

1
Ancient Manuscript
Trinket, Relic, Tome

09

3
Ancient Tome
Item, Relic, Tome

05

2
Ankh
Item, Relic

05

3
Appeal to the Council
Service

02

1
Arcane Assistant
Ally

06

1
Arcane Blade
Item, Weapon, Magical

04

3
Arcane Manuscripts
Item, Tome

01

Core
1
Arcane Scholar
Ally

01

Core
2
Arcane Scroll
Trinket, Tome

05

1
Arcane Sutra
Item, Tome

08

3
Arcane Tome
Item, Tome

01

Core
3
Arcanist
Ally

07

3
Assassination
Service

06

2
Astronomy Guidebook
Item, Tome

03

2
Astute Researcher
Ally

09

2
Axe
Item, Weapon

01

Core
2
Bandages
Item

01

Core
1
Blessed Blade
Item, Weapon, Magical, Relic

09

3
Blunderbuss
Item, Weapon

03

2
Bodyguard
Ally

02

2
Book of Spells
Item, Tome

05

3
Bull Whip
Item, Weapon

01

Core
1
Camera
Item — Other

07

2
Carbine Rifle
Item, Weapon

01

Core
3
Cat Burglar
Ally

01

Core
1
Chainsaw
Item

09

3
Charter Flight
Service

01

Core
1
Chief Inspector
Ally

06

2
Consecration
Service

04

2
Conspiracy Theorist
Ally, Reckoning

02

3
Courier Needed!
Service

03

1
Cultist's Journal
Item, Tome, Magical

03

3
Curiosity Shoppe
Service

05

4
Delivery Service
Service, Teamwork

01

Core
1
Divination
Service

07

1
Double-barreled Shotgun
Item, Weapon

01

Core
4
Dream Box
Trinket, Magical

07

2
Dream Diary
Item — Tome

07

1
Dynamite
Item, Weapon

01

Core
3
Elder Sign
Trinket, Magical

02

2
Enchanted Blade
Item, Weapon, Magical

02

3
Enchanted Bow
Item, Magical, Weapon

07

3
Enchanted Cane
Item, Weapon, Magical

06

2
Enchanted Dagger
Item, Weapon, Magical

05

1
Enchanted Jewelry
Item, Magical, Relic

09

3
Esteemed Author
Ally

06

3
Expedition Guide
Ally

04

2
Expedition Map
Trinket, Tome

04

1
Expert's Blade
Item, Magical, Relic, Weapon

09

2
Fine Clothes
Item

01

Core
2
Fine Jewelry
Trinket

06

1
Fishing Net
Item

01

Core
2
Flamethrower
Item, Weapon

06

4
Forbidden Secrets
Item, Tome

08

2
Forbidden Text
Item - Tome

07

2
Fresh Fruit
Item

02

1
Gambler's Dice
Trinket

03

3
Gatling Gun
Item, Weapon

08

4
Genealogy Research
Task

03

1
Grim Lexicon
Item, Tome

09

2
Grisly Totem
Trinket - Magical

08

3
Grotesque Compendium
Item, Tome

09

4
Gruesome Talisman
Trinket

04

1
Handcuffs
Item

04

2
Hired Muscle
Ally

01

Core
2
Hitman
Ally

07

3
Holy Cross
Item

01

Core
2
Holy Spear
Item, Relic, Weapon, Magical

04

3
Holy Water
Item, Magical

01

Core
2
Intelligence Report
Service

02

3
Investment
Task,Reckoning

03

1
Kerosene
Item

01

Core
1
King James Bible
Item, Tome

01

Core
2
Lantern
Item

02

1
Lavish Feast
Service

04

1
Lodge Disciple
Ally

06

4
Lodge Hunter
Ally

08

4
Lodge Physician
Ally

06

3
Lodge Researcher
Ally

01

Core
3
Lucky Cigarette Case
Trinket

01

Core
2
Lucky Rabbit's Foot
Trinket

01

Core
1
Lucky Ring
Trinket

02

3
Lucky Talisman
Trinket, Relic

05

3
Magic Shoppe
Service

05

2
Magnifying Glass
Trinket

05

1
Map of the Ley Lines
Item, Tome

03

4
Mauser C96
Item, Weapon

08

2
Medical Journal
Item, Tome

04

2
Mineralogy Research
Task

03

1
Mission Briefing
Service

08

1
Monster Hunter
Ally

03

3
Museum Curator
Ally

04

3
Museum Director
Ally

09

4
Mysterious Tome
Item, Tome

04

2
Mystic Bounty Hunter
Ally

02

2
Mystic Scroll
Item - Tome

08

1
Mystic Tome
Item, Tome

09

3
Newspaper Report
Task

03

1
News Report
Service

08

1
Night Classes
Service

07

2
Occult Grimoire
Item — Tome

07

3
Occult Tablet
Item, Relic, Tome

09

3
Occult Text
Item, Tome

06

2
Occult Scripture
Item, Tome

08

3
Opus Arcana
Item, Tome

04

2
Otherworld Codex
Item — Tome

07

2
Painkillers
Trinket

08

1
Patrolling the Streets
Task

03

1
Personal Assistant
Ally

01

Core
2
Pocket Watch
Trinket

01

Core
1
Police Assistance
Service

02

1
Police Ledger
Item

02

1
Police Raid
Service

07

3
Private Care
Service

01

Core
2
Private Flight
Service

08

2
Private Investigator
Ally

01

Core
2
Profane Tome
Item, Tome

03

1
Protective Amulet
Item

01

Core
1
Protective Totem
Item, Magical, Relic

09

1
Psychoanalyst
Ally

05

2
Puzzle Box
Trinket

01

Core
3
Research Student
Ally

02

1
Ritual Candles
Trinket

05

1
Ritual Dagger
Item, Weapon, Magical

04

1
Rumor Mill
Service

06

1
Sanctuary
Service

01

Core
2
Scribe's Journal
Item, Tome

05

1
Scroll of Secrets
Item, Tome

09

2
Search the Archives
Service

03

2
Secret Page
Item, Tome

03

2
Security Squad
Ally

06

2
Seek the Truth
Task

07

1
Silver Twilight Host
Service

08

3
Silver Twilight Ritual
Service

01

Core
3
Skeleton Keys
Trinket

07

1
Sledgehammer
Item

05

2
Specialist
Ally

06

3
Specialized Training
Task

04

1
Spirit Dagger
Item, Weapon, Magical

01

Core
2
Syndicate Agent
Ally

02

2
Tear Gas
Item, Weapon

02

1
Three-card Monte
Service

06

1
Timeworn Brand
Item, Magical, Relic, Weapon

09

1
Tome of Horrors
Item, Tome

03

3
Tome of Secrets
Item, Tome

04

3
Tommy Gun
Item, Weapon

06

3
Training Regimen
Service

08

2
Treasure Hunter
Ally

05

4
Treasured Memento
Trinket

09

1
Urban Guide
Ally

01

Core
4
Vampiric Talisman
Item, Magical, Relic

09

2
Vatican Missionary
Ally

01

Core
2
Ward Evil
Service

05

2
Whiskey
Item

01

Core
1
Willful Aristocrat
Ally

07

4
Winchester Rifle
Item, Weapon

08

2
Wireless Report
Service, Teamwork

01

Core
1
Witch Doctor
Ally

01

Core
3