The third card-only expansion for Eldritch Horror. Requires the core set to play.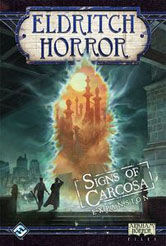 Expansion Overview
In the Signs of Carcosa expansion, investigators must discover the cause of the spreading madness that is sweeping the cities of the world. As the citizens of a population center lose their minds, they see the phantom spires of an alien city and visions of a faraway lake.
This expansion includes a new Ancient One and new investigators, Monsters, and encounters to be used with Eldritch Horror. It also introduces entirely new mechanics including Unique Assets and Impairment tokens.
Box Contents
This expansion introduces Talent Conditions and uses Impairment mechanics. It also contains Glamour spells, Unique Assets and Preludes.
Ancient Ones
The expansion contains the following Ancient One:
Hastur
Hastur has 8 Mysteries listed here, 24 Research Encounter cards and 32 Special Encounter cards (Cities on the Lake, King in Yellow and Unspeakable One Final Mystery).
Investigators
This box contains the 4 Investigators below:
Artifacts
It contains the 4 Artifacts below:
Spells
The box contains 12 Spell cards listed here. Each spell has 4 variants.
Assets
It contains its 16 Asset cards, as we see here:
Unique Assets
This expansion contains 16 Unique Assets, listed here:
Conditions
It contains 28 Conditions cards, listed here:
Preludes
The box contains 4 Prelude cards listed here.
Mythos
It also contains the 24 Mythos cards listed below:
Monsters
The expansion contains 8 Monster tokens (6 normal, 2 epic).
Links