Jurassic World: Dominion Dominates Fandom Wikis - The Loop
Play Sound
For the Dreamlands Other World Encounter, see The Dreamlands (Other World).
The third card + board expansion for Eldritch Horror. Requires the core set to play.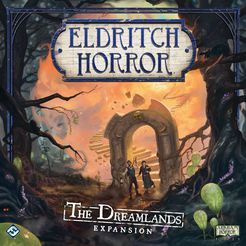 Expansion Overview
In The Dreamlands expansion, investigators must investigate the strange visions bestowed upon them in their nightmares and work against the forces which seek to merge the land of dream with reality.
This expansion includes two new Ancient Ones and new investigators, Monsters, and encounters to be used with Eldritch Horror. It also introduces entirely new mechanics including Unique Assets and Focus tokens.
Box Contents
This expansion doesn't introduce any new mechanics but uses Focus, Glamour Spells, Talent Conditions, Unique Assets and Preludes. It also contains 8 Otherworldly Dreams adventure cards.
Ancient Ones
The expansion contains 2 Ancient Ones, listed here:
Atlach-Nacha
Atlach-Nacha has 6 Mysteries listed here and 24 Research Encounter cards.
Hypnos
Hypnos has 6 Mysteries listed here, 24 Research Encounter cards and 24 Special Encounter cards (Corona Borealis Final Mystery, Dream Within a Dream and Dreamwalker). It uses the Dreamlands Map Board with its 16 encounter cards and 20 Dream-Quest Encounter cards.
Investigators
This box contains the 8 Investigators below:
Artifacts
It contains the 4 Artifacts below:
Spells
The box contains 12 Spell cards listed here. Each spell has 4 variants.
Assets
It contains its 16 Asset cards, as we see here:
Unique Assets
This expansion contains 25 Unique Assets, listed here:
Conditions
It contains 19 Conditions cards, listed here:
Preludes
The box contains 6 Prelude cards listed here.
Mythos
It also contains the 24 Mythos cards listed below:
Monsters
The expansion contains 11 Monster tokens (6 normal, 5 epic).
Links