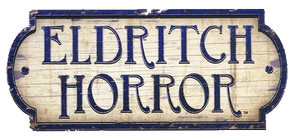 Welcome
Welcome to the Edlritch Horror Wiki, for fans of the Eldritch Horror board game published by Fantasy Flight Games.
What is Eldritch Horror?
Eldritch Horror is a cooperative game of global mystery and terror in which one to eight players take the roles of globetrotting investigators working to solve mysteries, gather clues, and protect the world from an Ancient One - an elder being intent on destroying our world. Each Ancient One comes with its own unique decks of Mystery and Research cards, which draw you deeper into the lore surrounding each loathsome creature.
Explore